Chances are extremely high that I'll never put down Data Scientist as my job. Considering what you do and what you know, I'll bet a healthy percentage of you are in a similar situation. That's OK. You know why? You know a lot about data, data movement and data processing that a Data Scientist doesn't.
They Also Serve
I don't know about you, but I'm not standing around waiting to serve. Instead, I'd be actively chasing after any and all Data Scientists within my organization offering to serve. If you can't be the Data Scientist who do you want to be? The Data Scientist's go-to technician.
That's me handing over a new data set to the Data Scientist I'm working with: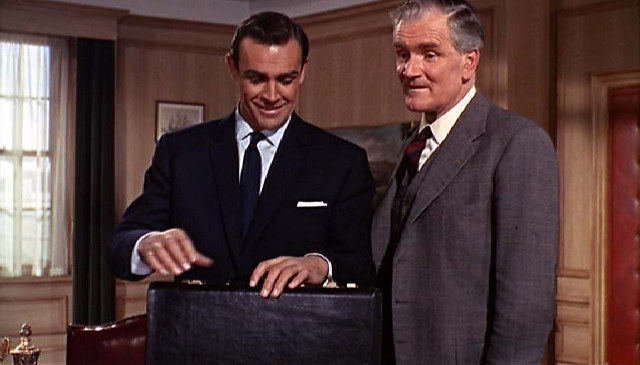 OK, really it's the best James Bond and the best Q in the second best Bond film (the modern Casino Royale is #1, wow, 3rd best Bond though). Anyway…
Like any other job, this isn't about 1s and 0s. It's about understanding the needs of the business Data Scientist. Each project likely has different purposes with different data sets from various locations, all of which my require all sorts of different types of processing from collating unstructured storage to moving data into a highly structured (maybe even tuned) environment. In short, there's a ton of work there, a lot of which isn't going to be done by the person who has been extremely busy learning highly advanced algorithms, not T-SQL.
Conclusion
So, I may never be a Data Scientist (or a secret agent). I'm still learning new things, including mathematics (albeit at a snail's pace) and I'm going to be able to apply that knowledge to help ensure my continued value as a data specialist. It's time to stop worrying about whether you'll have a job in 5-10 years and start learning so you'll be turning down work for 20 years.