As you read this, I'm in Seattle for the PASS Summit 2017. I have four roles that I satisfy at Summit; Vendor through my glorious employer Redgate Software, Board Member of the PASS organization, Speaker, and Attendee. Let me tell you about my Summit that's coming up.
What is PASS?
But first, a word from… well, they're not a sponsor of this blog in any way, but PASS and the community that creates and runs it made my career what it is today.
PASS is the single largest organization in the world today supporting training, networking and knowledge sharing in and around the Microsoft Data Platform. The organization runs Local Groups around the world that offer free training all year round. PASS supports SQLSaturday events globally. There are also Virtual Groups hosting meetings online in different languages on all sorts of different topics. Go here and read all about the organization. There's even more to it.
And Summit?
Summit is the annual fund-raiser for PASS. It's also the biggest confab of Microsoft Data Professionals anywhere. More of the best training is available here. Networking. All sorts of stuff. It's also referred to as the #SQLFamily annual reunion. I've been going every year since 2005.
My Summit
Here's my schedule for this year: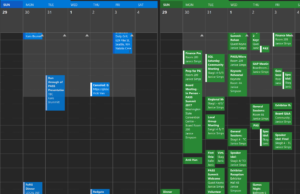 That's my schedule from Redgate and the PASS organization. As you can see, I have meetings early in the morning on Monday and Monday runs into the night. Tuesday, same thing. Every other day of the week, the same.
Monday consists of preparation for Redgate presentations that we're making during the week (we have cool stuff, come by the booth). I also have to do a bunch of preparation for the in-person board meeting taking place in Seattle on Monday. Finally I close out the night with the Friends of Redgate party.
Tuesday, more prep for Redgate sessions and a review of my own stuff. I also get to attend community meetings with the Local Group organizers and the SQLSaturday organizers. I'm also going to be talking to the Regional Mentors (volunteers for PASS that help us communicate regional concerns and issues, hugely important to such a big organization). Unfortunately I can't make the Virtual Group organizers meeting this year because of scheduling conflicts. I may swing by the First Timers networking event too. Finally, the evening is rounded out by the reception (and my very cool costume because it's Halloween).
Wednesday, up early for the keynote and then it's working the booth at Redgate, more PASS meetings, and the first of my three presentations this week, we're showing off some cool stuff you can do with Redgate tools. Please check it out. More meetings. Hopefully I can make Speaker Idol (we pick one winner to be a speaker at the next Summit). Then, it's off to the Vendor Reception Wednesday night.
Thursday, up very early for the keynote, because I have to deliver part of it. I'm pretty excited about the information I get to share about our organization here. It's Kilt Day! It's Women in Technology Day. Back to the booth some more. Meetings. Ooh, I get to present on Azure and Powershell, two of my favorite topics, more meetings, and then the #RedgateRocks party on Thursday night.
Friday, still alive, up early for a private breakfast which is actually a business meeting. No other meetings… WHAT? However, another presentation, I get to share the stage with Chris Woodruff and talk about Dev/DBA sharing and communication. Off to the Exhibitor Raffle and then the Board Q&A. I think I'll be able to make the Speaker Idol finale. Speaking of finale, that's about it except for a quiet dinner with a few friends on Friday evening. Oh, except for more time at the Redgate booth.
I'll also try to spend some time in the Community Zone to answer any questions anyone has about me, my role in the organization, the direction of PASS, or what the Board is up to.
Summit Sounds Busy
It sure is.
If you're there, stop me in the hall and say hello (unless I'm running, then, just move). Swing by the Redgate booth. My goal is to use this time to follow the PASS motto, Connect, Share, Learn. I can't do that unless I talk to you.
If you're not there this year, I hope to see you there in the future. Your schedule might not be as nuts as mine, but you have the opportunity to make it that way. Please take it.