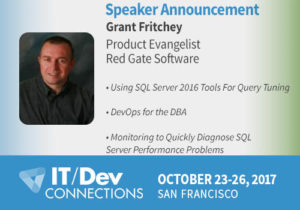 I'm very honored to be able to announce that I am going to be speaking at IT/Dev Connections in San Francisco. I'm not just speaking there, I'm presenting an all day seminar on the tools needed for query tuning.
The title does say SQL Server 2016, but most of the tools I'll cover can be used be used from SQL Server 2012 to SQL Server 2017. I'll also throw in a few SQL Server 2017 tools just to spice things up.
If you're looking for a lot of information about how to get your query tuning done, I'm here to help.
I'm also going to be talking about two other favorite topics of mine, DevOps and Monitoring. Please check it out and join me at this event.