We just received word of a bunch of new functionality over at Scott Guthrie's blog. Not a lot of stuff for data pro's… unless you work with Oracle. Yeah, you can now create Oracle VMs. See the image below: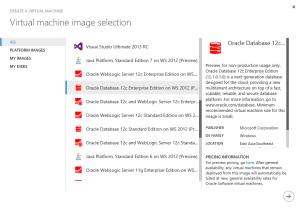 I swear, I can't tell you why this gives me the giggles, but it does. See, Oracle really does have a cloud offering, and it's Microsoft.
Ha!
Well, anyway, check out the link on Scott's blog to see the other changes to billing, security, etc. Absolutely worth the read.
<snicker>Oracle on Azure.
Oh, and if you need to get going on Oracle and you have an MSDN account, you can link your MSDN account to an Azure account for zero cost. Check it out here and enter to win an Aston Martin. This little prize ends on Monday, so this is your last chance.