I presented a session at the SQL Saturday event in Oklahoma City last weekend. The event itself was pretty good. The organizers put everything together pretty well and the venue was quite nice. Plus, since I grew up in Oklahoma (Tulsa), it was a chance to go home. The event was good, but my presentation went a little downhill.
The name of the session is "Top Tips for Better Stored Procedure Performance." I should rename it to just say "T-SQL Query Performance" because it's not focused on stored procedures, but on queries. The presentation is 1/3 talking about how you write your queries, naming syntax, formatting, etc. The second 2/3 is all about common mistakes made in writing T-SQL such as using NO_LOCK everywhere, nesting views, joining and nesting multi-statement table-valued user defined functions, operations on columns that prevent index usage, etc. It really is a session that could be sub-titled "You're doing it wrong." I'm trying to deliver a hard message and offer alternatives.
From the start of the session, it felt rushed. Not sure what happened, but it was a little out of my control and it shouldn't have been. Still, I hit most of the major points. I have a few points that I can gloss over for time and I found that I was glossing a little more than I wanted. However, I finished it all up and I thought I had the major points I wanted to hit well covered. I had some fun with the audience and people were laughing at the right spots. So, while a little rocky, it was basically good. Until I saw this in the evals: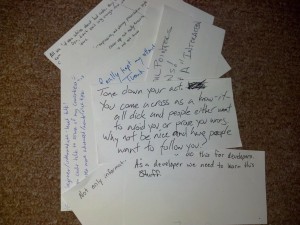 And that, is hands down, the single worst comment I've ever received. Ever.
So, of course, I went through the rest of the evals, in a panic. There were about 72 people in the audience and I received 60 evaluations. That's when I spotted another set of comments that said "All we did was whine about bad code. Very few constructive and helpful comments… Informal and overly-expressive, and whiney[sic] presentation style left me feeling like he was trying to cover up not really knowing what he was talking about."
Great. First I'm a dick and now I'm a "whiney" dick. A dick who used whining to cover up a lack of knowledge.
There were two measures offered on the front; "Expectations" and "Overall quality of the presentation." The Expectations could be "Did Not Meet", "Met", or "Exceeded." The quality question was numbered 1 to 5 with 5 being the best. Out of 60 evals, 41, or 68%, rated me as "Exceeded." 28% (17) rated me as "Met" expectations. I received only 2 "Did not Meet" And before you think it's just the two highly negative comments, you'd be wrong. Another person wrote "Too simple starting out. No time left when getting to the good stuff." Which, I can live with as a very fair representation. Oh, but the dick commenter, he gave me a "Met" expectations. With the scores, 73% (44) gave me a 5 and 25%(15) gave me a 4. There was a single 1 from the "whiney" guy. Yep, the dick person gave me a 4. In short, a pretty fair representation with good reviews and fair comments, except for the outliers.
I do feel like I didn't give as good a presentation as I can. It did feel rushed to me, making that one comment quite valid, but I sure don't see where I came across as a whiny dick. The other comments were pretty good, including this "Not only informative, but also entertaining" and "Very useful pointers & suggestions! Good Q&A interaction." So I'm seriously at a loss to understand the extreme nature of these two comments. I'm used to the "you were too basic" next to the "you were too advanced" comments. That's pretty normal. This presentation is meant to pop bubbles (nesting views leads to problems, sorry you don't like that statement of fact, but that doesn't make it less true). But whiny dick… And, one guy says I'm covering up a lack of knowledge and the other says I'm a know-it-all.
Let's just say I'm going into a little navel gazing to see if I can make a few adjustments to my presentation style.
Thanks everyone who attended, and thank you, everyone, for the feedback. It's appreciated.