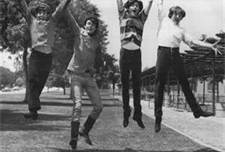 I can't sing and I can't play and I left the young generation behind a while ago, but I'm still coming to your town, or maybe one near you.
Between August and December I'm hitting a substantial portion of the country, so if you want to have a little fun, discuss SQL Server, network, or just chat, here are your chances. Please, ask me questions. Please, walk right up and say hello because we can learn from each other and I love my SQL Family. Here's where I'm going to be:
SQL Saturday #125 in Oklahoma City, August 25: Only one presentation here, Top Tips for T-SQL Performance, but it's a fun presentation. Register now because time is running out.
SQL Saturday #156 in Providence, RI, September 15: This is being run by the PASS User Group that I helped found and was President of for… a long time. It's going to be a great event. I'm presenting Top Tips for T-SQL and What to Look for in Execution Plans.
SQL in the City, New York, September 28: The SQL in the City events are free SQL Server instruction done the Red Gate way. We did two last year, London and LA. We've already done London again this year (here's the highlight reel). These are amazing and fantastic events. Not only do you get excellent SQL Server training from top names in the business, but you'll also get a lot of great information about Red Gate products. We're taking the show on the road in the US this year and this is the first stop. I have three sessions, Red Gate Tools the Complete Life Cycle, A Sandbox Development Process, and Forgotten Rings and other Monitoring Stories. Please register for this event by clicking right here.
SQL in the City, Austin, October 1: Yes, that's only a few days after New York. We'll wrap one up and head to the next. I'm jazzed as all get out to present in Austen. I like Texas (even though I grew up in Oklahoma). I'm doing the same presentations at this event; Red Gate Tools the Complete Life Cycle, A Sandbox Development Process, and Forgotten Rings and other Monitoring Stories. I point that out because they will change in different cities. Remember, this is a free event, so all you have to do is convince the boss that you need the day off and then click here to register.
SQL in the City, San Francisco, October 3: Two days later, on to the West Coast for another of the Red Gate events. By this time, I'm not sure what's going to come out of my mouth, so you're going to want to be there to watch. Kidding. I'm totally ready for this. I'll be presenting the same three presentations again. I'm sure they change at some point. Just click here to register. Remember, it only costs a little of your time… and did I mention beer? I didn't? Well I should have. We always close out with a little beer just to thank you for coming. So, put it all together, Free … Red Gate … SQL Server … Beer.
SQL in the City, Chicago, October 5: It's Friday so it must be Chicago. One of my absolute favorite SQL Saturdays was here in Chicago, so I can't wait to present here again, only this time painted red. And, I get to present with good friends. Actually, I get to do that in every city. This time I only have two presentations (see, told you it would change); A Sandbox Development Process, and a Presentation to be Named Later. You can register by clicking and filling out some 1s and 0s.
SQL in the City, Boston, October 8: Oh my god I'm dying. Kidding. I get to spend one night at home before this event, so I'm going to be completely recharged and ready to utterly crush it, like one of our local sports teams (in a good year). Seriously though, I'm really jazzed to be able to present in my adopted home town (well, near it, I live in Grafton) the following sessions: Red Gate Tools – The Complete Life Cycle, A Sandbox Development Process. May the demo gremlins leave me alone (unlike London). Free instruction available to you by registering.
A short break…
SQL Server Connections, Las Vegas, October 30 – November 1: Connections is a multi-disciplinary conference featuring all different technologies all at once. It's a fairly unique experience. Oh, and it's in Vegas, which excites some people. But for the truly enlightened you get to receive instruction from top names in the industry (and they let me in too). The sessions here are going to be: All about the Execution Plan and Improving Query Performance by Understanding and Fixing Bad Parameter Sniffing.
SQL in the City, Seattle, November 5: A little hop across a single time zone and I'll be in Seattle where we get to do our Red Gate dance again, right before the PASS Summit. If you're in town, you may want to check this out. I'll be presenting A Sandbox Development Process …. and that's it (for the moment). You know you want to register for this.
PASS Summit Pre-Conference Seminar, Seattle, November 6: This will be an all day drill down on how to tune your queries. We're going to cover how the optimizer works, how to identify the queries needing tuning, how to capture execution plans, all sorts of stuff, for seven hours. The last time I did this presentation at SQL Rally in Orlando, it sold out. I don't know if you can actually sell out a pre-con at PASS, but rather than risk it, I suggest registering now. Plus, if you register for the Summit now, the cost savings pay for this session. How can you go wrong. Come down a day early and go to the SQL in the City event too.
PASS Summit, Seattle, November 7-9: It's the PASS Summit. What else can I say about it. You've either been there and you know, or you've heard about it, in which case you don't know, yet. I'm presenting twice here, Improve Query Performance by Fixing Bad Parameter Sniffing and What to Look For in Execution Plans.
a slightly longer break (probably spent in a hospital)…
SQL Server Live!, Orlando, December 10-14: This is a new conference for me, so I don't know what to expect at all. But, it's in Orlando, which is a great town, and a great place to meet and network with SQL Family. Please consider attending. I'll be presenting Backups for the Accidental DBA and Query Performance Tuning and Load Testing.
That's it. I have to be within 3-4 hours of a majority of the country at some point over the next four months. Please, get in touch.