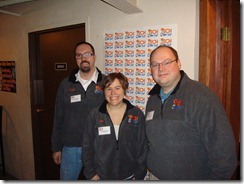 The first ever Tech on Tap event was held on Saturday, January 27th, 2012 at the Stone Cellar Brewpub in Appleton, WI. If you weren't there, well, you missed it. Notice that keyword in that earlier sentence, Brewpub. Yes, the Tech on Tap events (and there will be more) are specifically designed to mix Technology and Beer in a learning and networking event with a single focus. This first event was all about virtualization.
The space where the event was held was the back bar of the Brewpub in a private room. The layout of the tables wasn't perfect for presenting, but they were very conducive to networking. Other than that, the space was just excellent.
The first presenter was Brian Lewis (blog) from Microsoft. He spoke about virtualization in general and Hyperv in particular. It was a good overview of the product and only occasionally strayed into marketing hype (sorry, it did, but only a little). He had good questions and good audience interaction.
Then we had lunch (and some beer). The food was good (the beer was better, try the IPA). Then it was on to the next presentation.
This one was a more general overview of the topic of virtualization with a heavy emphasis on VMWare given by Bob Plankers (blog|twitter). Wow! All I can is Wow. Bob is a great presenter who put out excellent information AND he was very funny. I'm pretty sure he had the most one-liners retweeted during the entire day, but he was still churning out really excellent material.
Then we had more beer including several flights of samples of all the beer made at Stone Cellar. Wow! Almost as good as Bob's presentation.
Then it was time for Jes Schultz Borland (blog|twitter) and I to present. Our topic was "Virtually Monitoring SQL Server." We chose as our theme for the presentation the Dropkick Murphy's and we used their songs as slide titles along with the graphics (we're in a brewpub for crying out loud, we need to have a little fun here). She and I did an unrehearsed back & forth on the slides, tossing pieces of information back and forth on how to keep an eye on your servers that running virtually. I think it went really well. We need to rehearse it more so we're more natural on transitions. A couple of times I tossed the topic to her and she wasn't ready. I know I stood there slack-jawed several times when she did the same to me. But in general, it seemed really natural. I think we'll polish the slides and the deliver to submit it for the PASS Summit.
We finished the day with a general QA for about 1/2 hour and then another hour of networking (with more beer). It was a really excellent event.
The organizers (pictured above) did a good job putting it together. The technical information was excellent. The speakers (not talking about myself here) were top notch and really delivered on their material. I had a great time and learned some things at the same time. You can't ask for more.
The next event will be on Sharepoint. If you're anywhere even close to Wisconsin and a Sharepoint geek, start making plans.