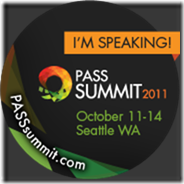 I write quite frequently about SQL Server Execution Plans. I started in that area just because that's how you figure out what a query is doing and sooner or later, we all have to tune a query. I found I was doing it sooner and more frequently. When the opportunity came up to write a book
, I jumped on it. Now I find myself presenting, rather frequently, on execution plans.
One of the people I've learned from over the last several years is Gail Shaw (blog|twitter). I first saw Gail on stage at the PASS Summit, I think it was 2007. A co-worker of mine was picked, along with Gail, to go on stage for the Quiz Bowl. Gail was answering all the questions. If you go over to SQL Server Central, Gail doesn't answer all the questions, but she's involved most of the important discussions. If you read her blog and articles, Gail has also been deeply involved in query tuning and execution plans for a long time.
Why am I telling you all this?
In just a little over three weeks, Gail and I will be presenting an all day seminar on SQL Server Execution Plans. We're going to cover the optimizer and the plan cache and we're going to show you how to read a ton of execution plans. We're going to go over how to spot problems and how to fix them. We'll be examining plans from people in the audience (yeah, bring your problem plans) live on stage. You'll get the chance not just to hear us talk, but to ask us questions, to get clarification on topics and meet other people who are learning the same stuff you are.
In short, we're going to be having a really good time and talking a lot about Execution Plans. This is your chance. Register for the Summit and, please, register for our pre-conference seminar. You won't be disappointed.