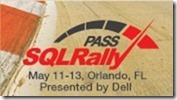 I believe I've been far too quiet about this event.
In May, in Orlando Florida, there will be a two day SQL Server conference called SQL Rally put on by PASS. This is a somewhat unique event since the sessions have all been chosen by the community. That's right, a series of votes was held online (and if you missed it, you weren't paying attention) so that all of you were able to decide which sessions you'd most like to see. I'm bringing this up because, now, it's up to you to register and go.
Did I mention the pre-con? No? Well, there will be a one-day pre-conference seminar. There are multiple sessions of excellent material at the pre-con. These were also voted on by the community. One of them just happens to be a full day session on query tuning called "Query Performance Tuning: Start to Finish" (catch that little bit of racing tie-in, yeah!) that I'll be putting on. I'm busting my nether regions to put together a great session. I just need you guys to show up to make it perfect.
This is a short, sharp, inexpensive, easy to get to (in the old days, all roads lead to Rome, now, all airlines lead to Orlando International) event with top speakers from around the country presenting sessions that you picked. Why haven't you registered? Get on over to the web site. Get your registration in. Plus, if you register now, you save $100, so that's nice.