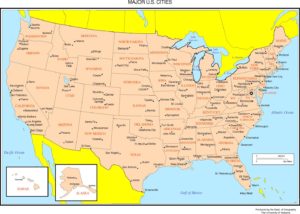 I made a mistake the other day. For some reason I got it into my head that I was flying to Albuquerque when I was actually flying to Phoenix. I've no idea how or why that occurred, but I sent a tweet out on how excited I was to finally be visiting and presenting in New Mexico for the first time. Yeah, oops.
But here's the deal. It got me thinking. I've been presenting professionally for quite a while. I've visited a lot of places around the world because of this. I want to visit a lot more. I've decided to work closer to home as well as elsewhere.
I Want to Speak in All Fifty States
I've presented live sessions to user group meetings, SQLSaturdays, Code Camps, and large events all over the US. I am missing a few states. In no particular order, here's the list:
Vermont (going to a user group meeting in a few weeks, so this will be off the list soon)
Alabama
Missouri (and this one is sad because I was born there)
West Virginia
Mississippi
Arkansas
Indiana (surprised by this one)
Kansas
North Dakota
South Dakota
New Mexico (so sorry for that mistaken tweet)
Utah
Wyoming
Montana
Idaho
Hawaii (this one is probably going to be the toughest one).
That's 16 states (soon 15). Let's get started working on this. Don't get too excited. I probably won't be at your user group meeting until sometime in 2018 (or later). However, let's see what we can do to start putting this together.
Here's one way to help. If there is more than one user group in your town (say, a .Net group, a DevOps group and a Data group), coordinate with those groups and me to make it a big meeting. That can help me incentivize my employer to send me over. If there's more than one user group in your state (and they're within reasonable driving distance, let's say 5 hours or less), coordinate with those groups and me to make a little tour (Like the Sons Of Beaches tour we did earlier this year, the Buckeye Blitz I did last year or the Carolina Cruise I did a couple of years ago). You need to coordinate first with the user groups, then with me. I'm not going to be the one to coordinate with all the local people. That's on you.
Let's Do All Fifty
I want to come to your town to present a session. I just need your help to assure my employer that when they fly me out to Wyoming that I'm going to be talking to more than 6 people (and no, 6 is not the cutoff, it's an example number, we need to try to rev up big numbers, 30-50, minimum). I will also try to make your SQLSaturday or Code Camp too. Get me a proposed date and projected numbers and we can make this fifty state thing a reality.